If you are looking for the best IVF center in Jaipur, then look at Mishka IVF located on the main Tonk road of the city. Gold medalist fertility specialist Dr. Ruchi Bhandari runs this infertility center.
As an independent branch of the well-known Bhandari Hospital and Research center, Mishka IVF provides the latest technology fertility treatment options. It is one of the few infertility centers in the city where infertility diagnosis is available for both males and females.
Urban life is very stressful, due to which problems of sperm deficiency and poor quality develop in males. In contrast, in females, most infertility problems occur because of a blockage in the fallopian tube or lack of proper expulsion of eggs. Apart from these, there may be other reasons for females, such as unstable hormones.
In the last few years, various researches have proven that IVF is the only option with a high success rate of fertility treatment. Since in IVF treatment, IVF specialist fertilizes the eggs in the lab. After successful fertilization, the doctor establishes the embryo back in the women's womb, which is a complicated process. Hence, after successful fertilization, you can say that they have won more than half the battle.
Not to mention, being the best Mishka IVF provides a better environment for infertility treatment. Here every specialist is educated from top national and international universities.
The Center has touched a high IVF success rate in no time and is constantly striving to increase it. Founder "Dr. Ruchi says that the success of IVF can be made unprecedented by bringing international techniques and diagnostic methods to Jaipur."
Let's see how Mishka IVF made a place in the hearts of Jaipurites.
#1 Latest Technology Equipped IVF Center in Jaipur
Mishka IVF uses American technology for egg removal by surgery for fertilization, ensuring patient comfort and giving doctors a smooth operation experience.
The Center uses the latest versions of techniques for all treatments and tests.
Before starting the treatment, the doctor tests the eggs and sperm also prescribe medicines to increase production. Mishka IVF follows the treatment method closely from the very first stage.
Every doctor and support worker of the Center knows how to operate all the equipment properly. Mishka IVF center is the best option for successful IVF in Jaipur city.
#2 Ideal IVF Success Rate in Jaipur
IVF never promises the same results. Since the body composition of each couple is different, the success rate of IVF treatment is also uneven for each patient. Following are the factors affecting the success of IVF.
Kind of fertility problem
Couple & patient's age
Earlier pregnancy and Miscarriage
Infertility duration
Donor eggs usage
Ovulation Dysfunction
Height and weight of patients
Mishka IVF starts treatment by keeping all the factors in mind and always aware of the scope of improvement so that the success rate can be further increased. Despite this, the IVF center keeps itself more than its standard level of success rate.
#3 Low-Cost IVF Treatment in Jaipur
IVF usually costs more than other fertility treatments. But patients pay for it because it is reliable and gives results on most occasions. Since IVF is a step-by-step process that starts from prescribing medicines. Therefore, the last price is calculated by summing up the cost that occurred at every step.
Unlike other infertility centers, Mishka IVF provides details of the cost to the patient at each stage. Mishka IVF charges 1 to 1.20 lakh rupees per IVF cycle. which eoc configuration aligns with the on-scene incident
#4 Easy Accessible IVF Center in Jaipur
Mishka IVF is located in Jaipur, near the city's busiest Tonk Road, which is accessible from any corner of the city, in no time. The location of the Center is accessible not only for patients from Mansarovar, Vaishali Nagar, Malviya Nagar, C-scheme but also to patients from close suburbs like Tonk, Kota, Bundi, Chaksu, and more. The adorable interiors will captivate you.
#5 Well Experience Staff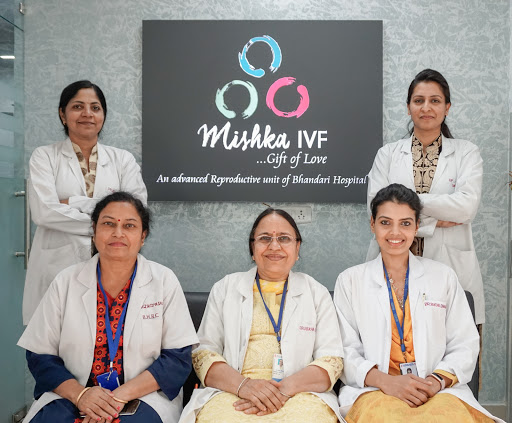 A team of IVF specialists, gynecologists, obstetricians, and andrologists trained from the world's top universities is looking forward to serving you at Mishka IVF. Let's look at the staff and their qualification.
Ruchi Bhandari (Director): MS (OB/Gyn) from Pune, 7+ years experience.
Rekha Bhandari (BHRC Director): MS – Obstetrics & Gynaecology, MBBS (Gynecologist, Obstetrician), 36+ years experience.
Dr. Chirag Bhandari (IASHindia Director): MS, MBBS from Pune, Fellow of the European committee, head andrologist at Mishka IVF.
Dr. Mahi Khandelwal: M.SC, M.PHIL (CLINICAL PSYCHOLOGY), Sexologist and male infertility specialist.
#6 Beyond Fertility (cosmetic gynecology)
While dealing with childbirth and fertility for many years, Mishka IVF is appreciating women's longing to remain beautiful forever. Due to aging and physical changes after delivery, women lose their beauty and confidence. That is why Mishka IVF has also included Cosmetic Gynecology in its services. A woman can regain her lost luster through the following surgical and non-surgical treatments.
Surgical treatments:
Hymenoplasty
Clitoral Hoodectomy
Labia Minora Plasty
Vaginal Tightening (with latest Single Thread technique)
Labia Majora Plasty
Labia Majora Augmentation
Non-surgical treatment options:
Fillers and injectables
Vaginal Rejuvenation ( modern with Radiofrequency)
Laser Vulvar whitening
G-Spot Amplification
Laser Vaginal Rejuvenation
O-Shot® for female sexual quality enhancement
Mishka IVF provides the best female aesthetic solutions in Jaipur at an affordable price.
Conclusion
The IVF cost in Jaipur is quite less compared to India's big cities. And people from all over the country come here for better treatment.
Although the center is keeping its efforts at a high level for better results. Under the effective management of Dr. Ruchi, the center has created many success stories.
Visit Mishka IVF center in Jaipur for every infertility treatment option.